Lenticular Clouds
May 2006
I took the first photograph below at 10 a.m., 8 February 2006 near the Observatory's Headquarters in Tsim Sha Tsui, showing clouds over Kowloon which resemble a pair of flying saucers. These clouds are called "lenticular clouds". They form when a layer of relatively stable and moist air-stream is forced to rise by hills, causing up and down wave motions in the air. The rising air in the wave causes the moisture to cool down and condense into water droplets, which then become visible to the eye. Since lenticular clouds look like one or more convex lens, they could sometimes be misinterpreted as flying saucers or Unidentified Flying Objects, and so they are commonly known as "flying saucer clouds".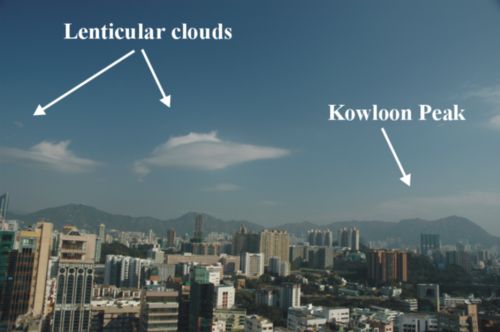 "Flying saucer clouds" at 10 a.m. on 8 February 2006
Since the wave motions which result in the "flying saucer clouds" are caused by hills, these clouds would appear more readily in mountainous areas. In Hong Kong, "flying saucer clouds" do not appear frequently but their appearance over Kowloon on 8 February was not the first time. In the morning of 9 January 2004, my colleague C.M. Cheng also photographed another one (see the second photograph below). The weather conditions on these two days were rather similar, with moderate to fresh easterly winds blowing near the surface and over the hills, and a rather stable atmosphere. We may therefore infer that the "flying saucer clouds" were caused by easterly winds blowing across Kowloon Peak and the nearby hills over eastern Kowloon.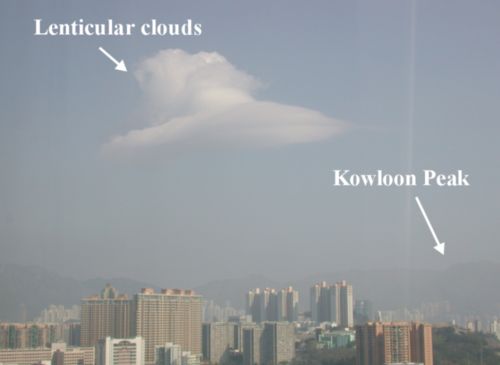 "Flying saucer clouds" in the morning of 9 January 2004
In the future, if you pay more attention to the wind changes, you may have the chance to get a glimpse of the fascinating "flying saucer clouds"!