Squall Lines and Shi Hu Feng - what you want to know about the violent squalls hitting Hong Kong on 9 May 2005
While its origin cannot be traced, the term of "Shi Hu Feng", or "Wind of the Stony Lake" has been used in southern China, particularly in the Pearl River Estuary, for a long time. It in general refers to those squally thunderstorms moving in suddenly from the north. From the meteorological point of view, Shi Hu Feng is the commoners' description of the gust associated with squall lines.
A squall line is a cluster of severe thunderstorms or storm cells along a line. Squall lines travel fast wrecking havoc on its way. Apart from the heavy downpour and thunder, squall lines also bring sudden changes in the wind direction with an abrupt increase in wind speed. The severe gust associated with squall lines can exceed 100 kilometres per hour. Some of them even carry hails and tornadoes.
Accompanying a southward moving cold front or trough of low pressure, squall lines usually affect southern China and its coastal area in late spring and early summer. Occasionally, squall lines are also formed near the outer rain band of the tropical cyclones approaching southern China. On the radar display, a squall line, which spans tens to hundreds of kilometers in length, manifests itself as a narrow band of intense rain area with a width of about ten to a few tens kilometers. Sometimes it also curves like a bow.
There have been cases of squall lines causing casualties and economic damages when passing through Hong Kong. During the passage of one such squall line on 9 May 2005, gust up to 135 kilometres per hour was recorded in the Kwai Chung area. Some containers stacked up in container terminals there collapsed, resulting in one death and two others injured. There were over 100 reports of fallen trees and scaffoldings that day. Incidentally, a squall line also hit Hong Kong on the same day four years ago (9 May 2001), bringing down 50 containers in Kwai Chung.
The violent winds and heavy rain of squall lines also pose a major threat to ocean- or river-going vessels. Squall lines were also blamed for the capsizing of passenger ferries in the Pearl River Estuary region in 1980, 1983 and 1985, claiming several hundred of lives.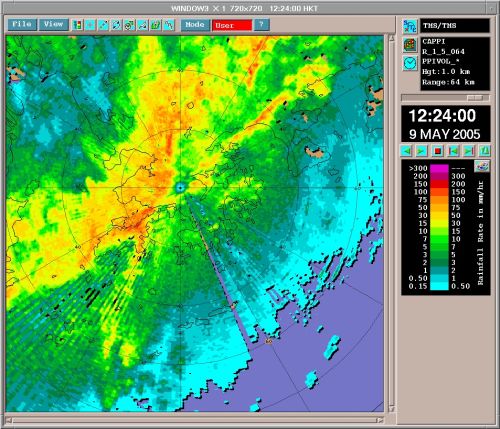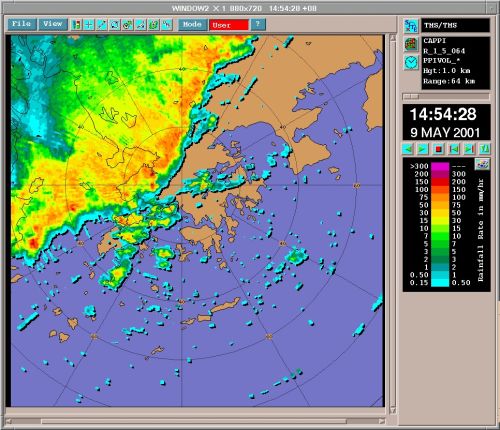 Radar images captured on 9 May 2005 (upper diagram) and 9 May 2001 (lower diagram) showing similar bow-shaped squall lines passing over Hong Kong.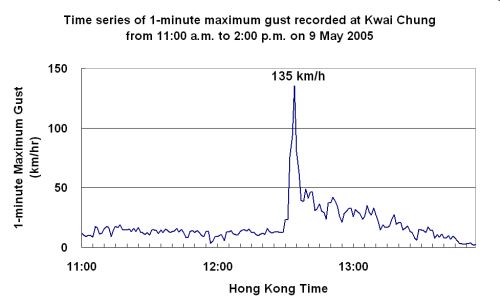 During the passage of the squall line on 9 May 2005, the gust at Kwai Chung rose sharply from less than 15 km/hr to 135 km/hr in the space of a few minutes.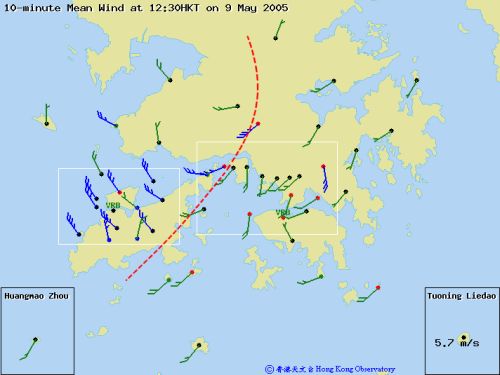 Wind distribution map of Hong Kong on 9 May 2005 showing the rapid change in wind direction, from southwesterly to northwesterly, during the passage of the squall line (red dash line indicates the shear line).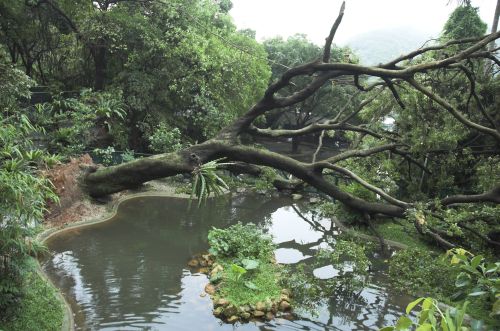 An over 80-cm diameter tree in the Kadoorie Farm and Botanic Garden was uprooted during the inclement weather on 9 May 2005. (Photo taken with the assistance of Kadoorie Farm and Botanic Garden)