Tropical Cyclone Season in 2011 (When would the Observatory issue the No.8 Signal)
20th December 2011
Stepping into December, successive cold surges have already affected southern China, signifying nearly the end of the tropical cyclone season this year. Up till now, there were 6 tropical cyclones coming within 500 kilometres of Hong Kong this year. This is in line with the forecast of 6 to 9 tropical cyclones made earlier in March and also matches the revised forecast of 5 to 7 made in September. Among the 6 tropical cyclones, 5 necessitated the issuance of tropical cyclone signals.
It is worth mentioning Typhoon Nesat that affected Hong Kong in end-September. It brought the first and was very likely the only No. 8 Signal (i.e. Gale or Storm Signal) of the year. It was also the first No. 8 Signal since Typhoon Koppu in September 2009.
Whenever a tropical cyclone enters or develops over the South China Sea, family and friends used to ask if a No. 8 Signal would be issued. This is understandable since most members of the public will get an extra day or half-day off and do not have to go to work or school when a No. 8 Signal is issued. Notwithstanding this, the primary consideration of the Observatory in issuing a No. 8 Signal is public safety. The Tropical Cyclone Warning System operates on the basis of objective criteria and scientific approach. The actual and forecast winds in Hong Kong are the bases for issuing tropical cyclone signals. So, how to determine if a No. 8 Signal is necessary? Here below are our considerations.
When the Observatory issues a No. 8 Signal, it means gale or storm force wind is expected or blowing generally in Hong Kong near sea level. Factors affecting the wind strength in Hong Kong include:
Intensity of tropical cyclone;
Distance of tropical cyclone from Hong Kong; and
Wind structure of tropical cyclone.
Intensity of Tropical Cyclone
Tropical cyclone is classified based on the maximum sustained wind speed near its centre. The classification adopted in Hong Kong[1] is as follows: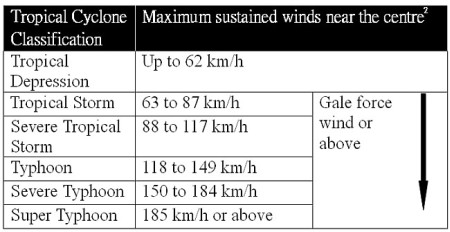 From this table, if a tropical cyclone just reaches the intensity of a Tropical Depression, then no matter how close the Tropical Depression is from Hong Kong or even if it passes overhead Hong Kong, it will not bring sustained gale force wind to the territory. As such, there is no need to issue a No. 8 Signal in this case. However, when a tropical cyclone reaches the intensity of a Tropical Storm or above, we then need to analyze and predict its distance from Hong Kong and its wind structure before determining the need of a No. 8 Signal.
Distance of Tropical Cyclone from Hong Kong
In general, apart from the weaker winds at the centre of a storm (usually called an eye[3]), the winds are the strongest near the centre and are weaker at greater distance from the centre. So, when a storm comes closer to Hong Kong, the chance of high winds affecting us is greater, whereas the chance of high winds is lower when the storm is farther away.
While many friends would like to know how close a storm will bring a No. 8 Signal, there is actually no fixed distance within which a No. 8 Signal is necessary. Of course, in general if the tropical cyclone is at quite some distance from the territory, the chance of No. 8 Signal is lower. In fact, the farthest tropical cyclone since 1957 that brought No. 8 Signal to Hong Kong is Typhoon Joe in September 1980. Its closest distance to Hong Kong was 350 km. So, when a tropical cyclone's closest distance to Hong Kong is still some 400 km or farther, the need to issue No. 8 Signal is generally rather low.
Wind Structure of Tropical Cyclone
The distribution of wind strength around a storm can be very asymmetrical as a result of its structure and its interaction with the surrounding atmospheric circulation. Asymmetric wind distribution is also quite common[4]. Figure 1(b) is the wind distribution around Typhoon Nesat to the southwest of Hong Kong on 29 September this year. It shows that the winds on the eastern and northern quadrants of Nesat were generally stronger than those on the southern and western quadrants. This was related to the combined effect of Nesat with the northeast monsoon over southern China at that time. Thus, winds can differ considerably at different places even if they are at the same distance from the storm's centre. We cannot solely rely on the distance of a storm from Hong Kong to determine the need of a No. 8 Signal, we also need to analyze and estimate the storm's wind distribution and its changes.
Take Figure 2 as an example, Typhoon Yutu skirted to the south of Hong Kong in September 2001. Its closest distance from the territory was 180 km. Gale force winds associated with Yutu affected Hong Kong, mainly over the southern districts. The No. 8 Signal was issued. In comparison with Yutu, Nesat was farther away from Hong Kong. Based on the forecast track at 8 p.m., 28 September 2011 (dashed line in Figure 2), Nesat would pass about 400 km from Hong Kong. As mentioned above, no No. 8 Signal was ever issued for this distance. Moreover, the area of gale winds of Nesat was not extensive at that time (roughly the yellow region in Figure 1(a)) and was mostly concentrated over the northern part of the South China Sea. Based on the then forecast track, the chance of gales generally affecting Hong Kong was rather low. However, Nesat took a more northwesterly track overnight (Figure 2), making it closer to Hong Kong. Its closest distance to Hong Kong was 350 km, about 50 km closer than that previously forecast. Meanwhile, the region of gales of Nesat showed signs of considerable extension (Figure 1(b) indicates that the gale region of Nesat covering Hong Kong in the morning of 29 September). In considering that Nesat became closer to Hong Kong than previously forecast and that local winds were strengthening, the Observatory issued the No. 8 Signal at 4:40 a.m., 29 September.
In conclusion, all the above three factors, i.e. intensity of tropical cyclone, its distance from Hong Kong and its wind structure, will vary with time. Local winds[5] will also change as a result. The Observatory will closely monitor the variation of winds in Hong Kong and neighbouring areas as well as the future development and movement of tropical cyclone, in order to provide timely and effective information for the public. Since the state-of-the-art technology still cannot entirely grasp the future evolution of a storm accurately[6], forecast errors and changes are unavoidable. Through more channels in the future, we will encourage and facilitate members of the public to pay more attention to changing weather, to raise their awareness to inclement weather against casualties and losses.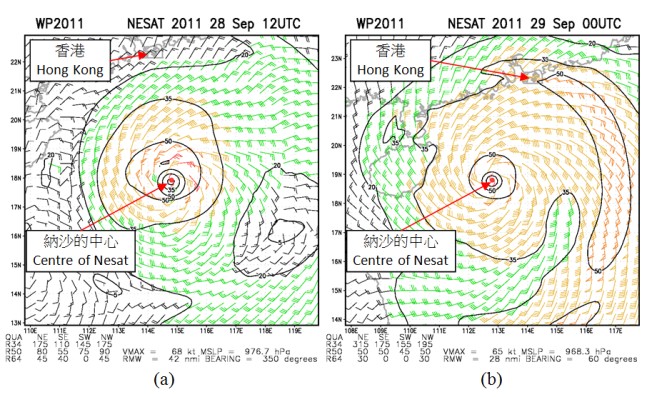 Figure 1      Wind distribution of Typhoon Nesat derived from satellite data at (a) 8 p.m., 28 September 2011 and (b) 8 a.m., 29 September 2011 (from National Oceanic and Atmospheric Administration, U.S.A.). Yellow colour roughly means gale force winds whereas red colour roughly means storm force winds.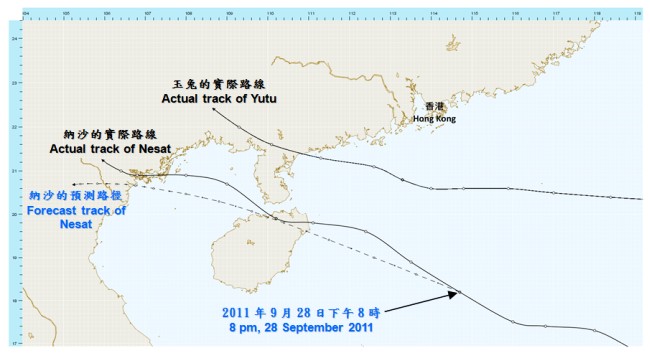 Figure 2      Actual tracks of Typhoon Yutu in July 2001 and Typhoon Nesat in September 2011 (solid lines). The forecast track of Nesat at 8 p.m., 28 September 2011 is shown in dashed line.
References
Based on 10-minute mean speed.
When a Tropical Cyclone has not yet attained the intensity of a Typhoon, there is no clear and well-defined eye.
Please refer to the Observatory's Blog on 'Tropical Cyclone: To the East, To the West?'
The topography of Hong Kong is complex. Wind strength at different regions are unequal. This article focuses on the general wind strength of Hong Kong.
The mean error of 24-hour track forecast of Nesat by the Observatory is 64 km, which is comparable with the level of major typhoon warning centres.