Needle ice growing up from soil
Written by: LI Yuet-sim December 2012
---
When the Observatory issued frost warning in winter, some members of the public used to visit Tai Mo Shan or the northern part of the New Territories during the overnight period or in the early morning to see if there is frost or rime on plant or objects. After reading this article, will you try to find a spectacular scene in which needle ice is "growing up" from the soil?
Needle ice looks like a bunch of filamentous crystals (Figure 1), and is in straight or curve shape. It usually forms in the morning when temperature drops below freezing point (0?C). It grows up slowly from the moist and water-penetrable soil, and melts gradually in the sun.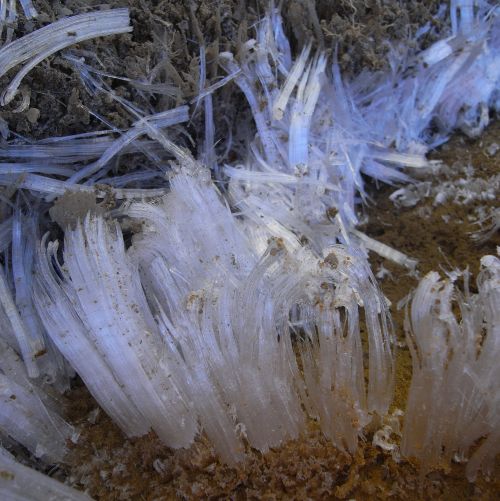 Figure 1: The author was lucky to see the needle ice when climbing
Mt. Hehuan in Taiwan in early 2010
Different from frost or rime which obtains moisture from the air, the water source of needle ice is the liquid water in the soil. Under very cold weather conditions with air temperature dropping below freezing point, the liquid water in the soil may be in the form of supercooled water with temperature below 0?C. This supercooled water will be drawn up through the soil via capillary action (the effect of drawing up water column along the wall of a narrow tube in water) and frozen into ice crystals rapidly near the surface. Since the supercooled water keeps seeping out from the soil and freezes, the ice crystals will grow up like a plant. In general, needle ice can be a few centimeters long or even more than ten centimeters. As the needle ice is lifted up from the soil, it usually has mud at its tip.
In fact, needle ice is not un-common on high grounds or high latitude regions. There were reports on needle ice in Asia region, such as Japan. If hiking in cold weather, you may see needle ice under your feet or you may have trodden on them unconsciously!
References

氣象觀察圖鑑 – 不可思議的天空 ,武田康男,2007,日月文化出版。 (in Chinese only)
"Needle Ice", Wikipedia.
"Needle Ice", The Hikers Notebook.
"Unusual Ice Formations: Studying the natural Growths of Ice", Weatherwise, January-February 2009, 34-40 pp.
"Capillary action", Wikipedia.

Back to content