Climate Projections for Hong Kong - Methodology
Climate Projections for Hong Kong
Methodology
The study of temperature and rainfall projections for Hong Kong by the Hong Kong Observatory utilised the results of supercomputer simulations of future climate made by major climate centres around the world.
These centres in Australia, Britain, Canada, China, France, Germany, Japan, Norway, Russia, the Republic of Korea and the United States had carried out simulations of the future climate including temperature using global climate models forced with different greenhouse gas emission scenarios.
The greenhouse gas emission scenarios used in the computer simulations reflect the various assumptions made by experts on the future population, economy, technology, energy and land use patterns of the world. They range from sustainable scenarios involving emission controls to rapid economic growth and fossil fuel intensive scenarios.
Projections of future temperature trends and rainfall changes in Hong Kong are made by the Hong Kong Observatory using the results of simulations made by global climate models under the various emission scenarios together with observed temperatures and rainfall in Hong Kong through a technique called statistical downscaling.
For temperature projection, as urbanization is an additional contributor to the rising temperature of cities, the study also takes into account the urbanization effect in Hong Kong.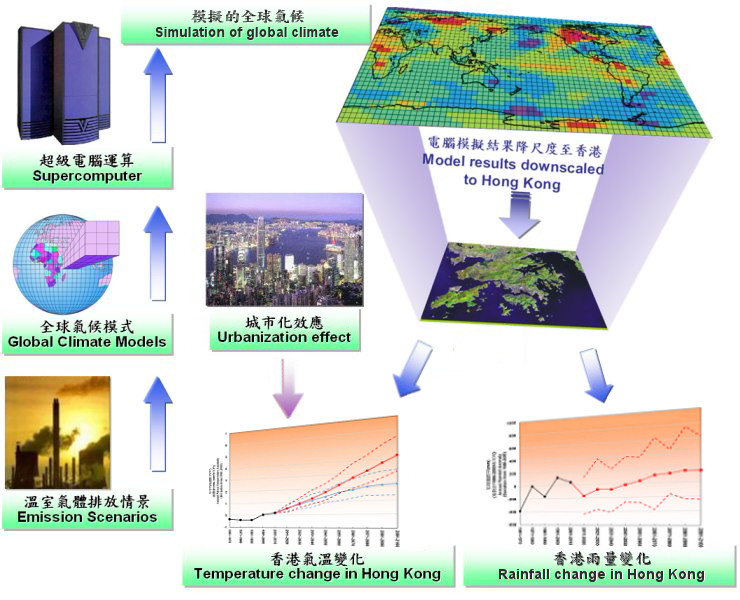 Schematic diagram showing the downscaling technique
for future temperature and rainfall in Hong Kong