What is medieval warm period?
Medieval warm period (MWP) generally refers to the warm period roughly around 900-1300 AD in some regions of the Northern Hemisphere (e.g. North Atlantic, Southern Greenland, the Eurasian Arctic, and parts of North America). Due to the scarcity of data prior to 1600, the precise duration and areal extent of the medieval warmth and whether it was a global phenomenon are still areas of active research. As pointed out by the United Nations Intergovernmental Panel on Climate Change (IPCC) Fourth Assessment Report (AR4) and some recent studies, there is no sufficient evidence to support that MWP was as warm as the 20th century as a whole. According to IPCC AR4, the warming in the late 20th century is widespread over the globe and the average Northern Hemisphere temperature in the late 20th century is likely the highest in the past 1300 years.
The causes of warming during MWP and the late 20th century are also different. The MWP was mainly due to natural factors, such as solar and volcanic activity. However, as indicated in IPCC AR4, most of the warming since the middle of the 20th century very likely results from the human-induced increase in atmospheric greenhouse gas concentration.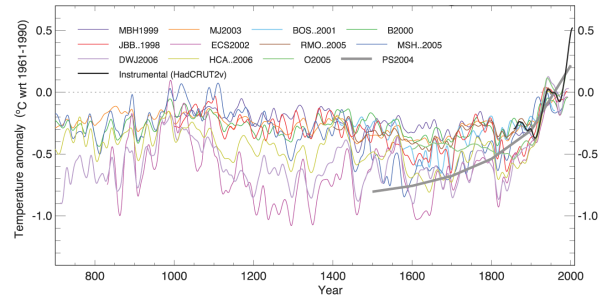 Records of Northern Hemisphere temperature variation during the last 1300 years with 12 reconstructions using multiple climate proxy records (tree rings, boreholes, ice core/ice boreholes, etc.) shown in colour and instrumental records shown in black. (Source IPCC AR4 WG1 Fig. 6.10)
Reference:
IPCC AR 4, Working Group I, 2007: Chapter 6: Palaeoclimate.
Mann, M. E., Z. Zhang, S. Rutherford, R.S. Bradley, M.K. Hughes, D. Shindell, C. Ammann, G. Faluvegi and F. Ni, 2009 : Global Signatures and Dynamical Origins of the Little Ice Age and Medieval Climate Anomaly. Science, 326, 1256-1260.
P. A. Stott, S. F. B. Tett, G. S. Jones, M. R. Allen, J. F. B. Mitchell, and G. J. Jenkins, 2000 : External Control of 20th century temperature by natural and anthropogenic forcings. Science, 290, 2133-2137.
National Research Council (U.S.), Committee on Surface Temperature Reconstructions for the Last 2,000 Years, 2006 : Surface temperature reconstructions for the last 2,000 years, National Academies Press, ISBN 9780309102254.
Koch J. and J. J. Clague, 2011: Extensive glaciers in northwest North America during Medieval time. Climatic Change, 107, 593-613.