What is thermohaline circulation?
The thermohaline circulation is a large-scale density-driven circulation in the ocean, caused by differences in temperature (thermo) and salinity (haline). It is also driven by mechanical forces such as winds and tides. In the North Atlantic the thermohaline circulation consists of warm surface water flowing northward and cold deep water flowing southward (see the figure), resulting in a net poleward transport of heat, thereby moderating the tropics and warming the high latitudes of Europe.
There are concerns that greater rainfall and melting of land ice and snow associated with climate change may change the salinity of the oceans and slow down or even halt the thermohaline circulation. Up to the end of 20th century, parts of the thermohaline circulation exhibit considerable inter-decadal variability, but data do not support a coherent trend. According to the Fourth Assessment Report of IPCC, it is very likely that the Atlantic thermohaline circulation will slow down over the course of the 21st century, but very unlikely that it will undergo a large abrupt transition.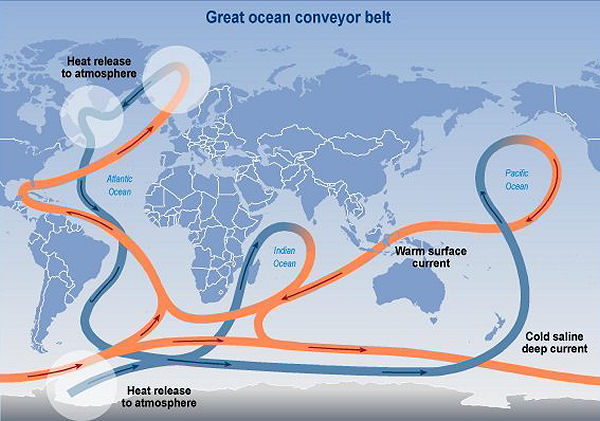 Simpified illustration of the Great ocean conveyor belt (Source: Climate Change 2001 - Synthesis report, IPCC)