Protect Mother Nature, Act Now for Zero Hill Fires
3 October 2011
Hill fires occur throughout the year in Hong Kong. Apart from posing serious ecological threats, they can also lead to casualties. Hill fires can be natural or man-made. Causes of natural fires include volcanic eruptions, lightning, droughts and heat waves, while man-made fires are often the results of burning cigarette butts, unextinguished fire from barbecues, left-behinds by grave sweepers and burning of vegetation for farming purposes. Most of the hill fires in Hong Kong are caused by human carelessness or negligence.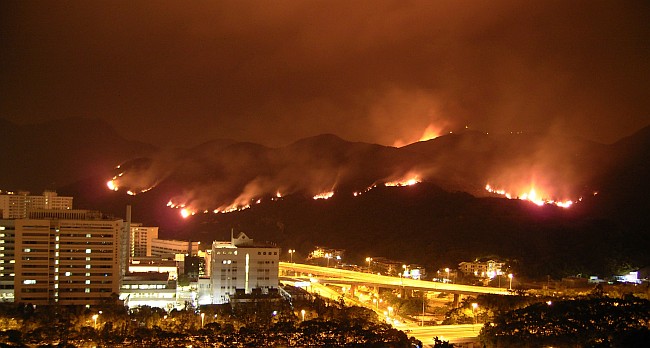 Hill fire near Kwong Yuen Estate on 17 February 2008 with a fire area of 5,000 square meters.
(Photo courtesy of Mr Chan Wai Kwong)
Hill fires can be divided into 3 categories: ground fire, underground fire and crown fire. Ground fire is the most common type of hill fires in Hong Kong and is due to the burning of waste on ground, humus, grass or shrubs. Underground fire is caused by slow-burning sources hidden under the ground . Once the forest or the surface of organic waste are lighted up, the fire will flare up vigorously. Crown fire is the burning of the top tip of bushes or trees. These fires spread quickly and are extremely difficult to extinguish. Fortunately, underground fires and crown fires are rare in Hong Kong.
Due to less rainfall and lower relative humidity in autumn and winter, plants in the rural areas of Hong Kong gradually dry out. With the increasingly dry vegetation, outbreaks and spread of hill fires become more frequent as the dry season progresses.
The Observatory will issue the "Fire Danger Warning" to alert the public to conditions in which fires may start and spread easily and to be extra vigilant during the periods of enhanced fire risks. When the warning is in force, steps should be taken to minimize the risk of fire ignitions which may damage the ecological environment, leading to tragic losses of lives and costly damages to the countryside and properties. There are two levels of the warning: Yellow and Red. A Yellow Fire Danger Warning will be issued when the fire risk is high; a Red Fire Danger Warning will be issued when the fire risk is extreme. In addition to basic weather factors such as relative humidity, wind, rainfall etc, the dryness of vegetation in the form of curing factor, supplied by the Agriculture, Fisheries and Conservation Department (AFCD) are also taken in account issuance of the Fire Danger Warning.
Recently, the Observatory analysed hill fire figures for the past 10 years (2001-2010) provided by the Fire Services Department to better understand the characteristics of hill fires. Through sharing of the results here, we hope to raise the public's awareness of the importance of hill fire prevention during the impending fire season, especially during holidays. People are reminded that a fire should not be left unattended and they should also take note of the Fire Danger Warnings issued by the Observatory, particularly during traditional Chinese festivals. The results of the analysis of hill fire data from 2001 to 2010 are summarized below.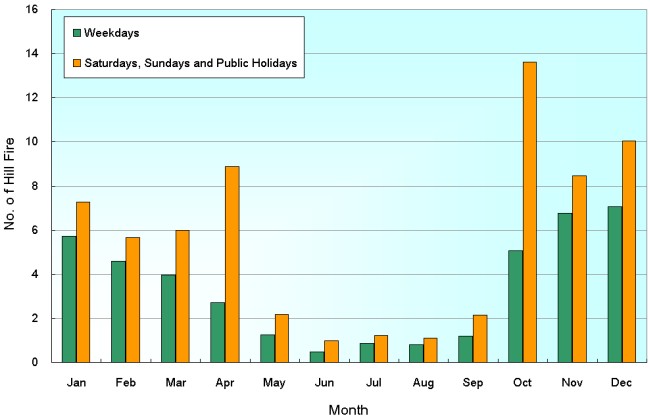 Figure 1Daily mean number of hill fires, 2001-2010.
According to Figure 1, hill fires mainly occur from October to April each year. Hill fires on holidays (Saturdays, Sundays and Public holidays) are consistently higher that those on weekdays with a mean figure of 3 hill fires per day on weekdays and up to 6 hill fires per day during holidays. April and October have much higher incidence of hill fires on holidays relative to weekdays. This is believed to be related to the Ching Ming and Chung Yeung Festivals, when Chinese traditionally visit the graves of their ancestors and present burnt offerings. These burnt offerings may not be completely extinguished after the visits, leading to increased incidents of hill fires.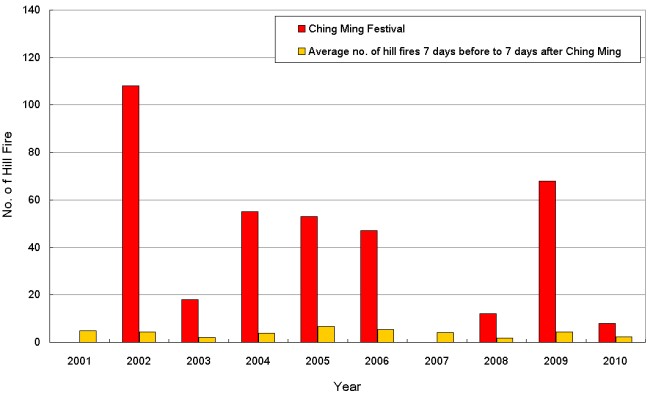 Figure 2Hill fires on Ching Ming and in the period from 7 days before to 7 days after Ching Ming, 2001-2010.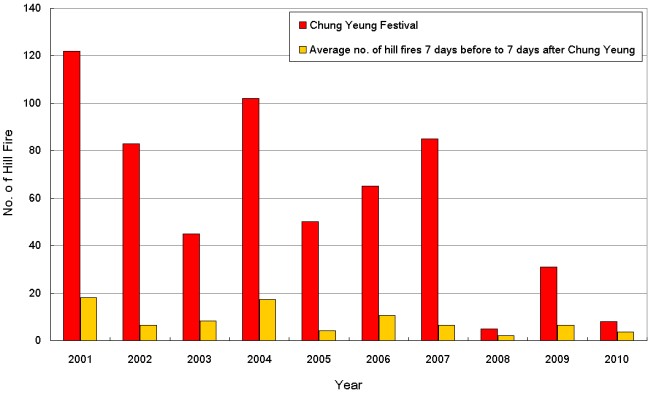 Figure 3Hill fires on Chung Yeung and in the period from 7 days before to 7 days after Chung Yeung, 2001-2010.
Figure 2 shows the number of hill fires on Ching Ming and the daily average of hill fires for the period from 7 days before to 7 days after Ching Ming between 2001 and 2010. Figure 3 is a similar graph for Chung Yeung. It can be seen that hill fires are more frequent on Chung Yeung and Ching Ming compared with 7 days before to 7 days after the festivals. Furthermore, there are generally more hill fires on Chung Yeung than Ching Ming.
The number of hill fires during Ching Ming and Chung Yeung varies with the weather and other factors every year. For example, heavy rain recorded on Ching Ming in 2001 resulted in zero hill fires on that day. Fewer hill fire cases were reported for Ching Ming in 2003, which is probably related to the SARS epidemic when the majority of the public stayed home. A rare case of zero hill fire was recorded during the Ching Ming of 2007 which might be attributed to the campaign of "Zero Hill Fire" organized by the Government in collaboration with other organizations early in 2007 and the fact that it was rather wet in the few days preceeding the festival.
It is evident that hill fires more frequently occur during holidays, especially during the Ching Ming and Chung Yeung festivals. We appeal to the public to extinguish all fire sources during their outdoor activities and pay particular attention to the Fire Danger Warnings issued by the Observatory. Let's work together to protect Mother Nature and to achieve the target of zero hill fires.
YY Cheng, KW Li and Edwin Ginn
Reference :
[1]
HKNature.net