How cold was the past winter?
7 June 2011
In 2010 fall, there was a rumour speculating that the following winter (from December 2010 to February 2011) would be the coldest winter for Europe in a millennium. Despite rebuttals by the World Meteorological Organization (WMO) and other scientists
1-3
that there was no sound scientific evidence to support the claim, this speculation was circulated rapidly over the internet and covered by many local and international media, invoking public concerns on an extremely cold winter in 2010/11 in Europe and even in many places in the Northern Hemisphere including China and Hong Kong.
Now, the winter has passed and it is time to objectively review how cold it was last winter in different parts of the world. Globally, as shown in Figure 1
4
, colder than normal (blue areas) weather mainly affected Europe, northern Eurasia and the eastern part of the US. On the contrary, the weather over more extensive areas including the northeast of Canada, Greenland, the Arctic and many parts of the tropics was warmer than normal (red areas). A preliminary analysis based on the data sets of major climate centres in the US and UK suggests that both the global and Northern Hemisphere average surface temperatures in 2010/11 winter were above normal. For the US and Europe, a recent assessment conducted by NASA scientists indicates that, as a whole, the US and Europe were only a bit colder than the long term average (1951-1980) last winter
5
. For China, apart from the cold January 2011, temperatures were near normal in December 2010 and well above normal in February 2011 (see Table 1)
6
. In view of the above objective data, it is rather clear that the cold weather in 2010/11 winter was in fact a regional phenomenon. The last winter was on average warmer than normal from the hemispheric and global perspectives
4
. Locally, Hong Kong experienced a cold January in 2011, but the temperature was near or slightly above normal in December 2010 and February 2011. The average winter temperature in Hong Kong in 2010/11 was 16.0
o
C, which is only ranked the 45
th
lowest on record since 1885. Many winters before 1990s were colder than last winter in Hong Kong. The coldest winter in Hong Kong occurred in 1892/93 with an average temperature of 13.7
o
C.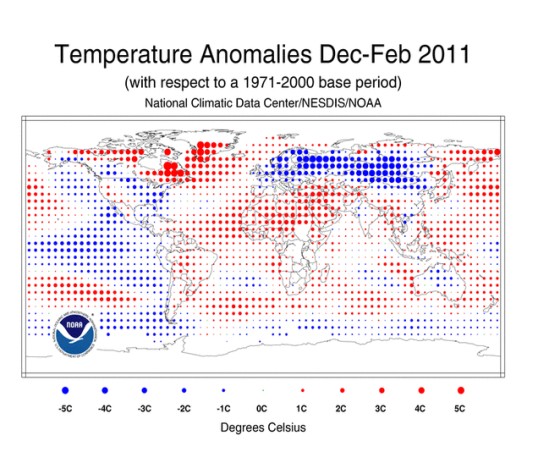 Figure 1Temperature anomalies of the winter from December 2010 to February 2011, relative
to 1971-2000 average (Source: NOAA National Climatic Data Center)4
Table 1Monthly average temperature anomaly in China and Hong Kong in winter 2010/11 (relative to the 1971-2000 average).

The colder than normal condition in Europe, Eurasia and parts of the US last winter could be attributed to several factors, one of them being the strong negative phase of the Arctic Oscillation during December 2010 and early January 2011. In the negative phase of the Arctic Oscillation, weather patterns in the Northern Hemisphere are more favourable for the outbreaks of frigid air from the Arctic, bringing colder weather to the mid-latitude region
7
. Past statistics also show that, with La Nina prevailing, the winter monsoon affecting China (including Hong Kong) is generally stronger, favouring lower winter temperatures
8
. Some recent research studies also suggest that there might be a link between the loss of the Arctic sea ice and the occurrence of harshly cold winter in Eurasia. In simple terms, as the sea ice cover decreases, the air over the Arctic region will warm up faster due to less reflection of sunshine from the ice surface. This would disturb the atmosphere circulation aloft the Arctic and subsequently trigger a more frequent release of frigid air from the polar region to Eurasia
9-11
. More research would be needed to fully understand this connection.
With some very cold weather in parts of the Northern Hemisphere last winter, one may query why it is so under the warming trend of global climate change. This is a common misconception on climate change which confuses "weather" and "climate". As previously pointed out in the blog article by our former Director, Dr B Y Lee
12
, the extremely cold weather occurring in a particular year is "weather" and has nothing to do with the "climate". Snowstorms and extremely cold weather are extreme climate events against the background of global climate change. Such events are part of natural climate variability and are not precluded by the long term global warming trend. According to the World Meteorological Organization, the year 2010 ranked as the warmest year on record, together with 2005 and 1998
13
. Moreover, the global average temperature over the ten years from 2001 to 2010 is the highest ever recorded for a 10-year period since the beginning of instrumental climate records in the 1850s. The assessment is supported by three widely referenced global temperature data sets in the UK and USA. All these data sets show remarkable agreement in depicting the significant long term warming trend of the Earth in the last century (see Figure 2).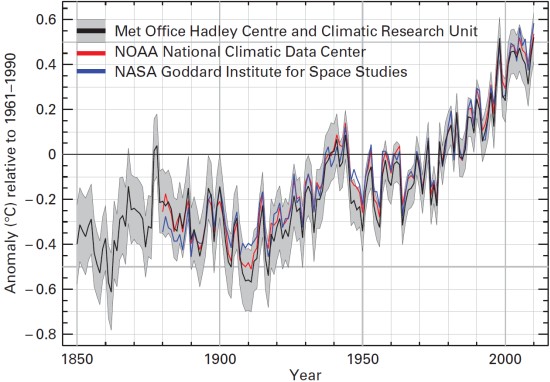 Figure 2Annual global average temperature anomalies (relative to 1961-1990) from 1850 to
2010 from the Hadley Centre/CRU in UK (black line and grey area, representing mean
and 95 per cent uncertainty range), the NOAA National Climatic Data Center in US
(red); and the NASA Goddard Institute for Space Studies in US (blue)
(Source: WMO Statement on the Status of the Global Climate 2010) 13
There is no doubt that claims or speculations similar to "the coldest winter in a millennium" rumour last year will appear again in the future, but such claims or speculations would not stand up to scrutiny based on objective data and scientific evidence.
T C Lee and M H Kok
References:
1. "
世界氣象組織:歐洲出現千年極寒實屬臆測
" United Nations Radio, 22 Oct 2010. (in Chinese only)
2. "氣候專家:"千年極寒" 論無科學依據" China Meteorological Administration, 12 Oct 2010. (in Chinese only)
3. Stefan Rahmstorf and Olivia Serdeczny, "Coldest Winter in 1000 Years Cometh - not.", Realclimate, 4 Dec 2010.
4. NOAA National Climatic Data Center, State of the Climate: Global Analysis for February 2011, published online March 2011, from
http://www.ncdc.noaa.gov/sotc/global/2011/2
.
5. James Hansen and Makiko Sato,
Perceptions of Climate Change
, 27 March 2011.
6.
Climate system monitoring bulletin
, National Climate Centre, China Meteorological Administration.
7.
http://www.weather.gov.hk/climate_change/ao_e.htm
8. M.C. Wu & W. H. Leung,
Effect of ENSO on Winter Monsoon Affecting Hong Kong
. Presented in 4
th
WMO International Workshop on Monsoons, Beijing, China, 20-25 October 2008. HKO Reprint No. 789.
9. Petoukhov, V., and V. A. Semenov (2010), A link between reduced Barents-Kara sea ice and cold winter extremes over northern continents, J. Geophys. Res., 115, D21111.
10. Honda, M., J. Inoue, and S. Yamane (2009), Influence of low Arctic sea-ice minima on anomalously cold Eurasian winters, Geophys. Res. Lett., 36, L08707.
11. "
Global Warming and Cold Winters
", Skeptical Science, 15 Jan 2011
12. B.Y. Lee, "
Climate change queries (1) - mini ice age ?
", 12 Feb 2010.
13.
WMO Statement on the Status of the Global Climate 2010
, World Meteorological Organization, March 2011.