Fostering a World System
In the current system, two World Area Forecast Centres (WAFCs) provide upper-air wind and temperature charts and en-route significant weather charts for meteorological offices to prepare flight documentation for international flights. The March 2005 meeting of the ICAO World Area Forecast System Operations Group (WAFSOPSG) decided that these charts would be replaced by forecasts in digital format between July 2005 and December 2006. The use of the digital forecasts will enable meteorological offices to produce customized flight documentation tailored to users' needs.
Apart from moving into the digital era, the Group also formulated important plans to strengthen the world system further. For example, forecasts of turbulence, icing and convective storms, which could be hazardous to flights, will be generated directly by numerical weather prediction models with higher resolution. In time, this will enable airline operators and pilots to plan flights which will be safer, more efficient and more comfortable.
Mr. C.M. Shun of the Hong Kong Observatory attended the above WAFSOPSG meeting for the first time in the capacity of permanent advisor to the representative of China – Mr. Xu Jianliang, Deputy Director of the Meteorological Division, Civil Aviation Administration of China (CAAC) from Beijing. The meeting highlighted the importance to seek further developments of the world system, which was first conceived back in the 1980's, and at the same time to adequately address the needs of developing countries in coping with the changes.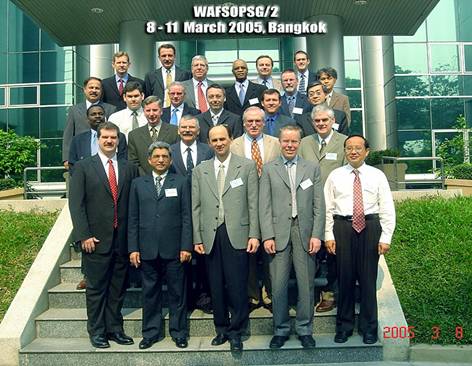 Mr. C.M. Shun (first on the right, third row) photographed with members of the WAFSOPSG. Also in the picture are (front row): Mr. Xu Jianliang (first on the right), Dr. Olli Turpeinen (second on the right), Chief of ICAO Meteorology Section and Mr. Dorinel Visoiu, Chairman of WAFSOPSG (middle).