Coordination with Air Traffic Management − contributing towards the enhancement of air safety and efficiency
Ms. Sandy Song of the Hong Kong Observatory attended the International Civil Aviation Organization (ICAO) Meteorological (MET) and Air Traffic Management (ATM) Co-ordination Seminar for Asia/Pacific Region on behalf of the Hong Kong Observatory and World Meteorological Organization in February this year. This seminar aims at fostering exchanges and understanding between MET and ATM to facilitate further development of the MET products in support of ATM. Representative from Civil Aviation Department also attended the seminar.
During the seminar, the meteorological products developed by the Hong Kong Observatory in support of ATM were introduced. Presenters from other States also shared their experiences, such as the use of graphical meteorological products, which were very informative and useful for future development of meteorological products in support of ATM. During the seminar, ICAO emphasized the importance of weather information in the air navigation systems and would summarize the presentation material for reference in future planning in the Region. In addition, the seminar recommended a survey be conducted in the Region to further study the ATM requirements and to establish a set of the general requirements for MET services/products. This development would contribute towards the advancement of the aeronautical meteorological service as well as air safety and efficiency.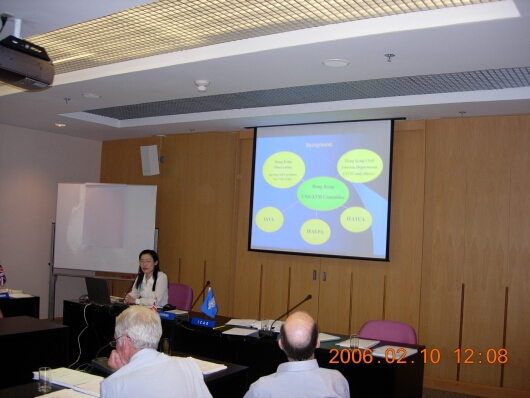 Ms. Sandy Song introduced the meteorological products developed by the Hong Kong Observatory in support of Air Traffic Management