Look before you leave
Weather for over 1000 airports worldwide are now available at Hong Kong Observatory's webpage. This is part of the Observatory's effort to enhance its weather services on the Internet. You can now check the weather of the destination and alternative aerodromes before you leave for the airport. The web page should be of particular use to pilots and travellers wishing to get hold of the weather before departure.
The new webpage provides such information as the forecast weather, the minimum and the maximum temperatures for airports. They are based on the official weather information received from international airports that issue weather reports and forecasts regularly.
In late 2002, the Observatory launched a webpage on World Weather Information. It contains weather information for over 800 cities around the world. Now added to the list is the weather information for more than 1000 airports worldwide from the webpage on World Airport Weather. Do come and visit the 'World Airport Weather' website at: http://www.weather.gov.hk/aviat/airportwx/w_airport_wx.htm.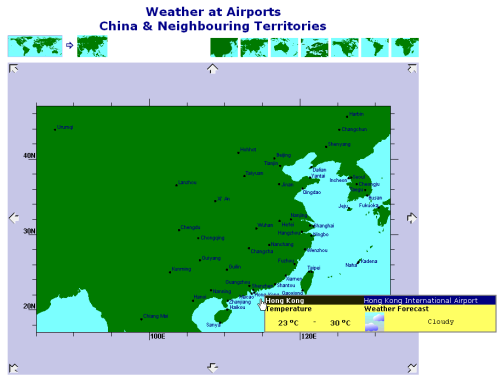 World Airport Weather webpage showing the temperatures and weather conditions at airports around the world