First trial of windshear uplink to cockpit in Hong Kong
The Observatory joined hands with the Northwest Airlines (NWA) to conduct a trial of uplinking alphanumeric microburst and windshear alerts of the Hong Kong terminal Doppler weather radar to NWA aircraft operating at the Hong Kong International Airport (HKIA). This is the first trial of automatic uplink of microburst and windshear alerts directly to the cockpit in Hong Kong and in the Asia/Pacific Region.
In 2004, the Observatory conducted a survey to identify pilot requirements for uplinking weather information to the cockpit. Windshear and turbulence alerts were identified as the most needed weather product for the uplinking to enhance flight safety. In consultation with the Hong Kong Civil Aviation Department (CAD), airlines and pilots, the trial was initiated to address the user requirement using an available data link technology – the Terminal Weather Information for Pilots (TWIP).
Uplink of the TWIP messages to the cockpit commenced in late April. The trial will last until October 2006 to cover the rain and typhoon season. Pilot survey and evaluation will be conducted to identify improvement areas and consider further development opportunities.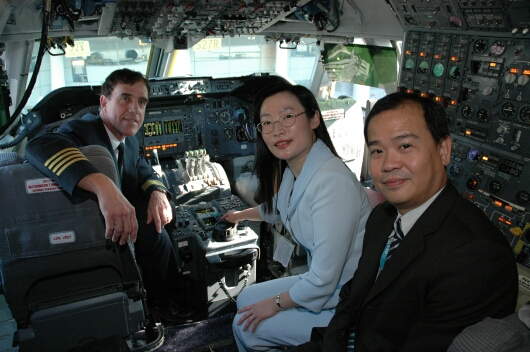 Ms. Sandy Song of the Observatory (middle) and Dr. Raymond Tse of CAD (right) briefed NWA Captain Gregory Pfeiffer on the trial during a kick-off meeting prior to the departure of flight NW002 on 9 May 2006.