The World's First LIDAR Windshear Alerting System (LIWAS)
The LIWAS of the Observatory has been put into operational use since the end of 2005. This is the world's first automatic windshear alerting system based on LIDAR.
To publicize the achievements of the Observatory in windshear alerting, Mr. H.G. Wai, Assistant Director on Aviation Weather Services, hosted a press briefing at the Hong Kong International Airport on 20 February in association with Captain Brian Greeves of the International Federation of Air Line Pilots' Associations (IFALPA). He also explained the improvement of services through concerted effort with the users. The briefing was covered in both local and overseas press.
The Observatory also presented a number of papers on windshear and turbulence alerting in a conference organized by American Meteorological Society in late January. Many papers from other countries were found to refer to the Observatory's experience in LIDAR applications.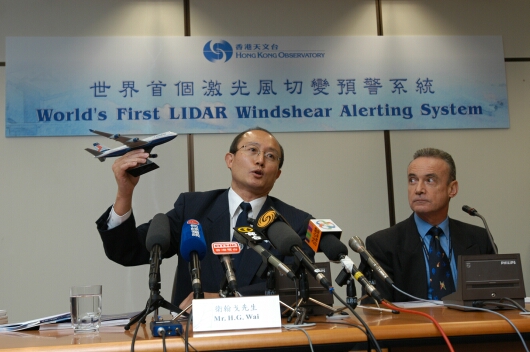 Mr. H.G. Wai (left) and Captain Brian Greeves (right) introduced the Observatory's windshear alerting services.