Hong Kong Meteorologist Completed Consultancy for ICAO
Mr. S.T. Chan, Scientific Officer of the Observatory, was appointed as a consultant to the International Civil Aviation Organization (ICAO) in August 2004. His task was to develop a manual on quality management systems for the Meteorology Section, Air Navigation Bureau of ICAO. The appointment followed ICAO's introduction in 2001 as recommended practices for ICAO Contracting States to establish ISO 9000-compliant quality management systems for the provision of aviation meteorological services. The manual, to be published jointly by ICAO and the World Meteorological Organization (WMO), will assist the Contracting States in the design, development and implementation of the quality management system of their own.
The ICAO appointment is the first of its kind in the Observatory. "I am indeed honored to have this opportunity to contribute to the worldwide effort towards the provision of quality services for aviation", Mr. Chan said.
The drafting of the manual has now been completed. The manual will be ready for publishing after incorporating comments from WMO.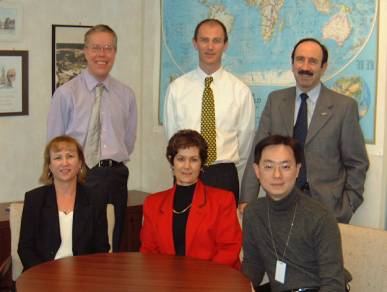 S.T. Chan photographed with colleagues of the Meteorology Section at ICAO Headquarters in Montreal, Canada in December 2004. Front left to right: Ms. Vivian Loch, Mrs. I. Da Silva, Mr. S.T. Chan (front row); Dr. Olli Turpeinen (Chief of Meteorology Section), Messrs. Neil Halsey and Raul Romero (back row).