ICAO Regional Meetings
C.M. Shun of the Observatory attended two annual meetings of the International Civil Aviation Organization (ICAO) for the Asia/Pacific Region in Bangkok in July and August this year. As in the past few years, he chaired the group discussions on aviation meteorology in the technical meeting in July and reported on the outcomes at the higher-level meeting in August. Different from the previous years, this July the Observatory presented a total of seven papers – a record high since it attended the first meeting in 1997. In these papers, five proposals were made, all related to the uplink and downlink of meteorological information to and from aircraft, and were all supported and endorsed by the two meetings. It is hoped that these proposals, when implemented worldwide in the foreseeable future, will facilitate more effective provision of meteorological support to civil aviation and hence enhancement of its safety, regularity and efficiency.
Furthermore, this year's participation by member States in the aviation meteorology group discussions was very active, leading to more initiatives in further developing this subject in the Region. Among them are a training seminar on quality management system held in Hong Kong in November 2005 (see news on QMS seminar), a METATM coordination seminar to be held in Bangkok during 8-10 February 2006 to foster exchanges between the meteorology and air traffic management communities, and a poster to be developed by Hong Kong as educational material to assist meteorological offices in the issuance of SIGMET warning messages in respect of tropical cyclones. All in all, another busy year is expected for 2006 but hopefully it will be also be a very fruitful year for aviation meteorologists of the Region.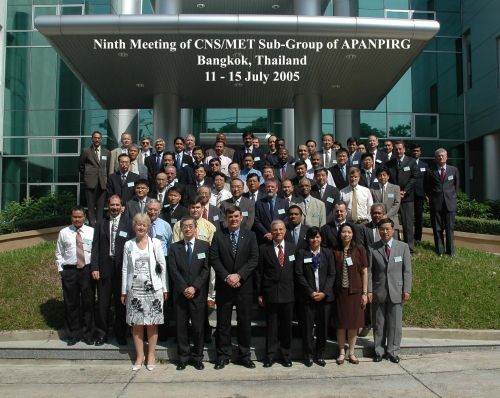 CM Shun (second from the left) photographed with participants of the ICAO regional meeting in July.