30th Anniversary of Windshear Alerting Service
On 10 December 2009, the Hong Kong Observatory and the Civil Aviation Department (CAD) jointly hosted a press conference to commemorate the 30th anniversary of windshear alerting service in Hong Kong. Joining the event were aviation stakeholders, including the Government Flying Service, International Air Transport Association, International Federation of Airline Pilots' Associations (IFALPA) and the Guild of Air Pilots and Air Navigators.

"Over the past 30 years, the Observatory has enhanced the service for the Hong Kong International Airport (HKIA) by applying the latest technologies, innovations and scientific methods. The most notable achievement was the in-house development of the Light Detection And Ranging (LIDAR) Windshear Alerting System, which is now generally recognised as a world-leading airport windshear system," Director of the Hong Kong Observatory, Dr Lee Boon-ying said.

"But it is not just technical advances that make things work the close collaboration with our partners- Civil Aviation Department, airlines and pilots, has played an important role. Without their unfailing support and positive feedback, the achievements we see today would not have been possible", Dr Lee said.

Assistant Director-General of Civil Aviation (Flight Standards), Captain Victor Liu Chi-yung said, "CAD is committed to a safe and efficient air transport system through a systematic, proactive and co-operative approach. At the same time, our colleagues at the Observatory are working diligently to be a world model in the provision of useful and effective meteorological services through science. The LIDAR system has enhanced the accuracy and timeliness of the essential weather reports to pilots and air operators, thus enhancing the overall safety of aircraft operating at our airport. We are very pleased that the Observatory provides us with very professional, accurate and reliable aviation weather forecasts and reports."

In the development of the windshear alerting service, the active contributions by the pilots played a crucial role. Captain Brian Greeves of the IFALPA said, "The present Windshear and Turbulence Warning System at HKIA, which combines many elements, is among the most sophisticated systems in the world. IFALPA is proud of its role in achieving this along with the other users, and salutes the Observatory on 30 years of working to make our skies safer and our airport more efficient."

The windshear alerting service at HKIA is among the pioneers in the world. It is described as one of the world models in the low-level windshear manual of the International Civil Aviation Organisation. The aviation authorities in the US and Japan have made reference to the Hong Kong experience in their deployment of LIDARs for windshear detection. Meteorological services in many parts of the world, such as mainland China, the Russian Federation, India, the Republic of Korea and Thailand, have visited the Observatory in the past few years to appreciate the windshear alerting work in Hong Kong.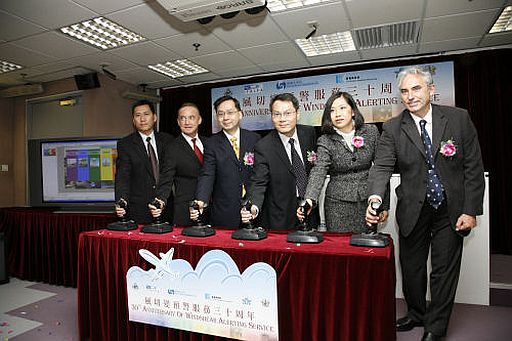 Figure 1 Dr. Lee Boon-ying, Director of the Hong Kong Observatory (third from left) and Captain Victor Liu Chi-yung, Assistant Director-General of Civil Aviation (Flight Standards) (third from right) commemorated the 30th anniversary of windshear alerting service in Hong Kong together with representatives of Government Flying Service, International Air Transport Association, International Federation of Airline Pilots' Associations and the Guild of Air Pilots and Air Navigators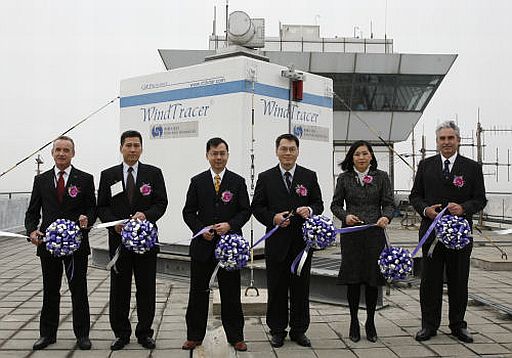 Figure 2 Dr Lee Boon-ying, Director of the Hong Kong Observatory (third from left) and representatives of Civil Aviation Department, Government Flying Service, International Air Transport Association, International Federation of Airline Pilots' Associations and the Guild of Air Pilots and Air Navigators cutting the ribbons to declare operation of the LIDAR for all runway corridors at the airport