Shaping Aviation Weather Services in the 21st Century
About 120 participants from 56 members of the World Meteorological Organization (WMO) and seven international organisations have attended the 14th Session of the Commission for Aeronautical Meteorology (CAeM) of the WMO hosted by Hong Kong, which ended on 10 February 2010.

The Assistant Director of Hong Kong Observatory (Aviation Weather Services), Mr C M Shun was elected the President of CAeM during this session. It is the highest position in the WMO that an official has taken up in the history of the Hong Kong Observatory (HKO) and the first time a meteorologist from Hong Kong was elected President of a WMO technical commission. Mr Shun's election was also reported by the China Meteorological Administration (CMA) on its website http://www.cma.gov.cn/qxxw/xw/201002/t20100205_58775.html.

The session has identified a number of high-priority plans and tasks to further the development of aviation weather services, including assisting WMO members to implement quality management system, developing a competency assessment framework for aeronautical meteorological personnel, and introducing new meteorological services for the terminal area. All these initiatives are aimed to address the pressing need for enhancing weather services for aviation in the 21st Century.

HKO was highly praised by the delegates for organising a highly successful meeting. Mr Steve Ricketts and Mr Kent Johnson of Canada, and Mr Predrag Petkovic of Serbia commended HKO's extraordinary efforts, making the CAeM session an overwhelming success. Dr Olli Marius Turpeinen representing the International Civil Aviation Organisation, praised the session for being the best organised he had ever attended in the past 20 years. Deputy Director of Air Traffic Management Bureau of Civil Aviation Administration of China, Mr Xu Jianliang, commended HKO's staff for their excellent planning and arrangements, winning high accolades from participants.

The CAeM is one of the WMO's eight technical commissions. The session is held every four years to discuss the progress and future development in the provision of aviation weather services. In taking up the presidency of the commission, Mr Shun said, "If we want to prosper, or at least survive, in this ever more competitive environment, we should not resist change, and better still, we should embrace change. We should become more versatile, more innovative, and more cost-effective in response to changes, but we should never give up our foundation, and that is, science and user engagement."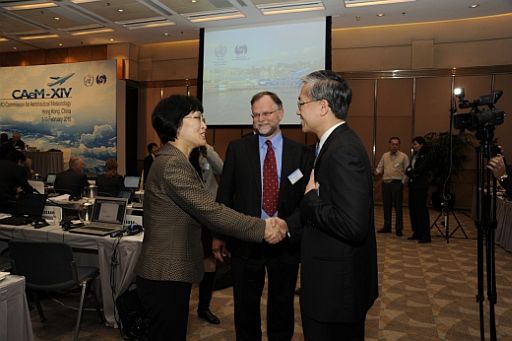 Figure 1 Deputy Administrator of China Meteorological Administration, Ms Jiao Meiyan (left), and Permanent Representative of New Zealand with WMO and former President of CAeM, Dr Neil Gordon (centre) congratulating Assistant Director of the Hong Kong Observatory (Aviation Weather Services), Mr C M Shun (right), on his election as the President of CAeM.