The Observatory Passed the Safety Audit of the International Civil Aviation Organization
The International Civil Aviation Organization (ICAO) established and launched the Universal Safety Oversight Audit Program (USOAP) in 1999 with an aim to promoting global aviation safety through auditing Contracting States on a regular basis to determine the States' capability for safety oversight. After auditing some 100 States, the ICAO audit team came to audit Hong Kong, China from 26 February to 6 March.

As the Meteorological Authority of Hong Kong and the organization to provide meteorological services and facilities, the Hong Kong Observatory is the responsible party for the section in relation to the implementation of Annex 3 "Meteorological Service for International Air Navigation" under the audit managed by the Civil Aviation Department. As a result of the serious and meticulous preparation by the Observatory's staff, the audit was completed successfully on 2 March, and the Observatory's capability on safety oversight on aviation meteorological services was confirmed by the audit team.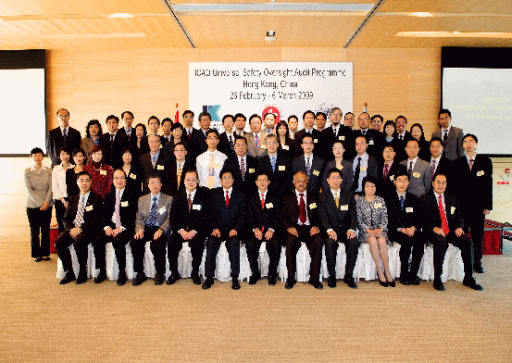 Figure 1 Mr. C.M. Shun, Assistant Director of the Hong Kong Observatory (eighth from the right, second row), Mr. Norman Lo, Director General of Civil Aviation (sixth from the right, front row), Mr. Dhiraj Ramdoyal, Lead Auditor of the ICAO audit team (fifth from the right, front row) photographed with the team of CAD and HKO staff who participated in the audit.