Brilliant performance of the Observatory's Airport Thunderstorm and Lightning Alerting System
The new Airport Thunderstorm and Lightning Alerting System (ATLAS) developed by the Hong Kong Observatory together with the lightning warning system, which had been operated by the Airport Authority Hong Kong in the past few years, were put into parallel operation early last year. The new system monitors lightning activity in and around the Hong Kong International Airport (HKIA) and issues Red or Amber lightning alerts automatically. It also disseminates graphic and textual alert messages to the Airport Authority to trigger the warning lights and sirens over the airport area. After a full year operation, ATLAS's performance was brilliant and proven to be superior to the old lightning warning system in terms of higher hit rate, lower false alarm rate and shorter alert duration. As such, the Airport Authority decided to decommission the old system and adopt ATLAS for issuing the lightning warnings at HKIA from February this year.

Meanwhile, ATLAS won the Best Public Service Application (Small Scale Project) Silver Award in the Information and Communication Technology (ICT) Award Scheme 2008. Citation from the Judging Panel pointed out that "The complicated computational algorithm developed by the Observatory is the key for producing one of the first automatic lightning prediction systems in the world with lightning detection and forecasting capability. The system improves the detection efficiency and shortens the latency in issuing lightning warning signals. With these good features, the system has proven to be able to assure the safety of passengers and airport personnel while minimizing disruption to the airport operations. Moreover, the system has a good potential to be applied to other lightning sensitive areas by tuning the computational algorithm, and exported to other places."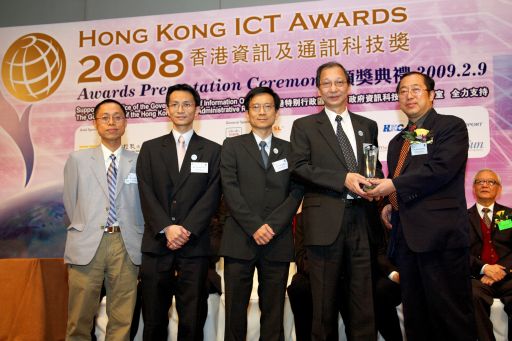 Figure 1 Dr. K.K. Yeung of the Hong Kong Observatory (2nd to the right) and ATLAS R&D team received the ICT Best Public Service Application (Small Scale Project) Silver Award during the Award Ceremony held in February 2009.