Meteorology Course for Aviation Forecasters
The Observatory has been offering the "Meteorology Course for Aviation Forecasters" to its staff since 2001. The aim of the course is to equip trainees with the necessary knowledge and skills for aviation forecasting in fulfillment of the latest international requirements. After a series of assessments, five participants graduated from the 3rd Meteorology Course for Aviation Forecasters this year. They are Messrs Tse Wai-ming, Wong Kwun-wa, Chan Kin-yu and Lau Dick-shum, and Ms. Wong Sau-ha. Apart from mastering the skills in diagnosing and forecasting aviation specific significant weather, the trainees also need to get familiar with the aviation weather related regulations and practices. Aviation users, including Civil Aviation Department and airlines, were invited to deliver lectures on their operations and the significant weather they are concerned with. This gives participants a better appreciation of the impact of their forecasts on aviation operations.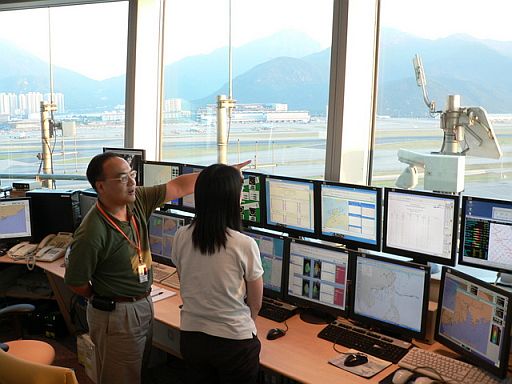 Fig.1: Aviation Forecaster Ho Ka-leong (left), sharing his weather forecasting skills and experience with Wong Sau-ha.