Hong Kong Observatory co-sponsoring the "Dragonair Aviation Certificate Programme"
For the third year in a row, the Hong Kong Observatory coorganizes the "Dragonair Aviation Certificate Programme" and provides meteorological training courses to selected cadets of the Hong Kong Air Cadet Corps. The programme aims to inspire interests in aviation and to nurture future talents for the aviation community. A number of graduates from previous programmes are already forging careers in the aviation business. The cadets will undergo an eight-month mentorship programme to receive training from different aviation-related organizations, including the host Dragonair and the co-sponsors Hong Kong Observatory, Civil Aviation Department, Government Flying Services, Aviation Security Company, Hong Kong International Airport Services and Hong Kong Aircraft Engineering Company. The Observatory will offer, in the second half of this year, basic training on weather observation and aviation weather forecasting, opportunities to visit the Airport Meteorological Office and practice at the bench for the cadets to experience themselves the partnership between the weatherman and the aviation community.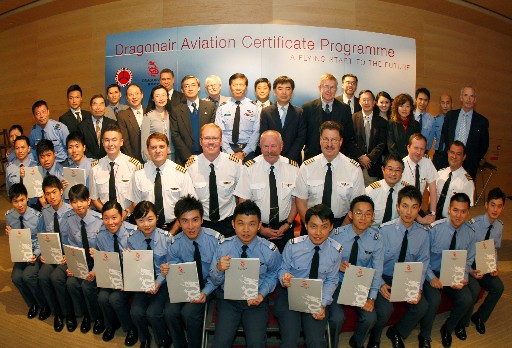 Fig.1: Hong Kong Observatory's Acting Assistant Director Mr. C.M. Shun and Senior Scientific Officer Ms. Sandy Song attended the 2008 Dragonair Aviation Certificate Programme launch ceremony and photographed with Dragonair's CEO Mr Kenny Tang, Wing Commander Fred Lui of the Hong Kong Air Cadet Corps and 14 cadets who joined the Programme.