Observatory Collaborates with International Partners on Windshear
During 20-22 November 2007, Observatory's CM Shun attended in Montreal, Canada, the first meeting of the Meteorological Warnings Study Group recently established by the International Civil Aviation Organization (ICAO). The meeting endorsed a set of posters developed by the Observatory in collaboration with the World Meteorological Organization (WMO), International Federation of Air Line Pilots' Associations (IFALPA) and ICAO, for publication. The posters will be distributed to meteorological offices, pilots and airlines to promulgate the knowledge of windshear, including their causes, alerting techniques and pilot's rules, around the world.
The meeting also agreed to include the Observatory's pioneering work on the use of the Light Detection and Ranging (LIDAR) technology for detection of windshear in the second edition of the Manual on Low-level Wind Shear and Turbulence – the authoritative guidance material developed by ICAO on windshear. The meeting also requested the Observatory and the US Federal Aviation Administration to jointly develop the international standard phraseology for use by air traffic controllers in relaying windshear alerts to aircraft.
Outside the meeting, Mr Shun also took the opportunity to visit the Permanent Mission of China to the ICAO and exchanged views with Mr Ma Tao, China's Representative on the ICAO Council, regarding the latest developments in international aviation meteorological services.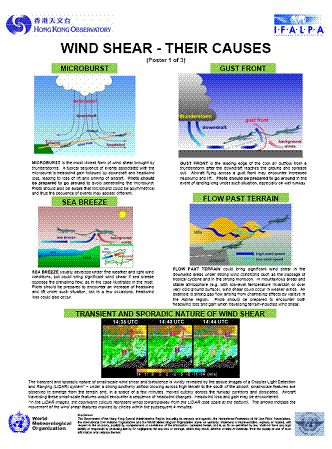 One of the windshear posters developed by the Observatory in collaboration with WMO, IFALPA and ICAO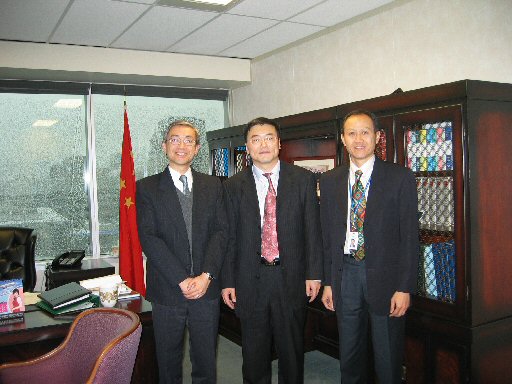 Mr Shun (left) photographed with Mr Ma Tao (centre), China's Representative on the ICAO Council, and Mr Alva Fung, Adviser to Mr Ma, and seconded from the Civil Aviation Department