Exchanges with Japanese Experts on Radar Technologies
The Observatory's C.M.Cheng (Senior Scientific Officer) and L.M. Hui (Senior Radar Specialist Mechanic) visited the Japan Meteorological Agency (JMA) in December 2007. Their mission was to appreciate the latest status of JMA's airport radar for microburst detection at Haneda Airport. This is part of the Observatory's study on the options to sustain the operation of the terminal Doppler weather radar which has served the Hong Kong International Airport for over ten years. During the two-day visit, they also exchanged views with JMA in the application of LIght Detection And Ranging (LIDAR) for windshear and turbulence detection and in the provision of new weather services in support of air traffic management.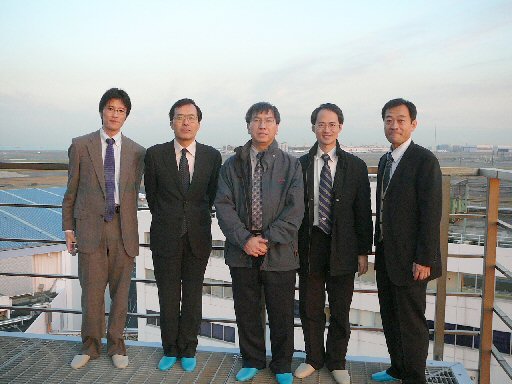 C.M.Cheng (2nd from right) and L.M.Hui (centre) pictured outside the airport radar at Haneda Airport with Messrs. K. Akaeda (2nd from left), Y. Kimata (1st from right) and H. Kunimatsu (1st from left) of JMA.