Meeting of Liaison Group on Weather Information for General Aviation
The third meeting of the Liaison Group for General Aviation was held on 6 July 2007 at the Hong Kong Observatory Headquarters. Representatives from different sectors of the local general aviation community, including the Government Flying Service, the Hong Kong Aviation Club and local helicopter companies joined the meeting. Through regular meetings of the liaison group, the Observatory can better understand users' needs and receive comments to improve its weather services for general aviation. According to a recent customer survey on general aviation, all respondents considered the liaison group very useful and important, and they were all satisfied with the weather services provided by the Observatory for general aviation.
Staff of the Observatory introduced to the users newly developed products and collected their feedback during the meeting. Among the new products and services, the service of sharing of weather reports for general aviation received numerous compliments from the users. In that service, the Observatory provides a platform for pilots from local aviation organisations to upload and share their weather reports. The weather reports can serve as a reference for other pilots planning their flight mission and allow them to get hold of more comprehensive weather information. The service is currently in trial phase and further optimisation work is underway with useful user comments being incorporated.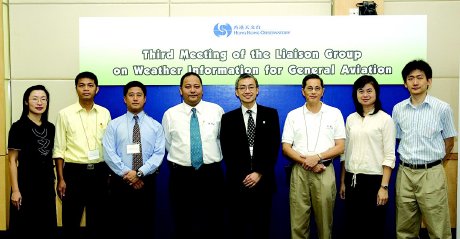 Representatives from the local general aviation community photographed with the Observatory's staff at the third meeting of the Liaison Group for General Aviation.