Hong Kong Observatory Co-organised "Hong Kong Aviation Day 2007"
On 8 July 2007, the Hong Kong Aviation Club, Chinese Young Men's Christian Association (YMCA), Civil Aviation Department and Hong Kong Observatory jointly organised the Hong Kong Aviation Day 2007 at the old Kai Tak Airport. The event aimed at promoting the aviation culture and related education in Hong Kong. Other co-organisers of the event included local airlines, helicopter companies and various local aviation sports associations.
The aviation day featured game booths, exhibition of different models of fix-wings and helicopters, as well as demonstration shows of helicopters and hot-air balloon. It brought enjoyable moments to over two thousand participants. The Observatory set up an exhibition booth for the event to promote the Observatory's weather information for aviation sports on the internet ( http://www.weather.gov.hk/en/aviat/soaring/index.htm). Movies on aviation weather services were also shown to illustrate the Observatory's work and achievements during the recent years. The Observatory has been maintaining close ties with the local aviation community with a view to better understand and meet their needs for weather information. The information booth of the Observatory was well received by local aviators and members of the public.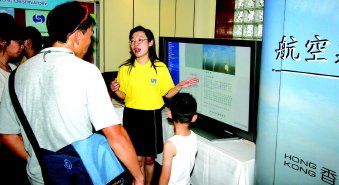 Ms Sandy Song of the Observatory introducing the aviation weather services in Hong Kong to participants of the Hong Kong Aviation Day 2007.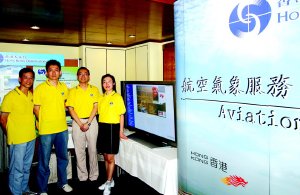 Acting Assistant Director of Hong Kong Observatory, Mr. Shun Chi-Ming (2nd from the right), gave support to the Observatory's exhibition booth at old Kai Tak airport in the Hong Kong Aviation Day 2007.