Reaching out to Africa
In July, Mr. C.Y. Hong, Chief Experimental Officer of the Observatory, attended the "Aviation Seminar" in Nairobi, the capital city of Kenya. This seminar was organised by the UK Meteorological Office and co-sponsored by the World Meteorological Organisation (WMO). Previously held in the UK, the "Aviation Seminar" was held in Kenya this year to encourage participation from African countries. Apart from Kenya, Namibia, Zambia and other African countries, there were participants from Asian and European countries including China, Tajikistan and France.
At the Seminar, it was encouraging to see the Observatory's contributions and developments in aviation meteorology being quoted. In particular, the booklet on "Windshear and Turbulence in Hong Kong - information for pilots" prepared by the Observatory in cooperation with the International Federation of Air Line Pilots' Associations (IFALPA), was being used as training material on windshear and turbulence.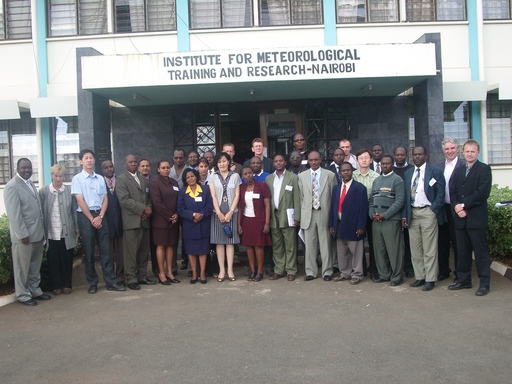 Photo: Mr. C.Y. Hong (third from the left) photographed with the UK trainers and other participants of the "Aviation Seminar".