Close Liaison with Users Ensures Smooth Implementation of New ICAO Aviation Weather Standards
Aviation meteorological information is crucial to aviation safety. ICAO regularly updates the standard and recommended practices of aviation meteorological services in Annex 3 to the Convention on International Civil Aviation. To ensure smooth implementation of the new standards effective on 7 November 2007, the Observatory briefed the airlines and pilots on these changes in the regular meetings of the Liaison Group on Aviation Weather Services. The current updates of Annex 3 include removal of the requirement for provisional aerodrome forecast, provision of wind/temperature forecasts more relevant to the flight time, and simplification of the significant weather forecasts.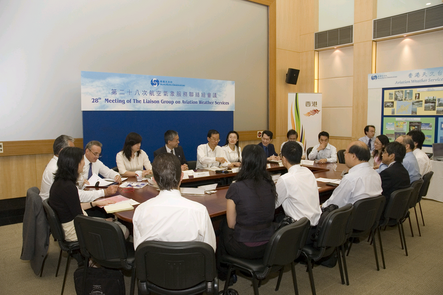 Photo: The Observatory briefed aviation users on the new ICAO aviation weather standards during the Liaison Group on Aviation Weather Services in August 2007.