Thai Forecasters Visited the Observatory to Learn about Quality Management
Two meteorologists of the Thai Meteorological Department (TMD) visited Hong Kong during 24-28 Sep 2007 to learn about the Observatory's experience in the implementation of a Quality Management System (QMS) for the Airport Meteorological Office. Apart from receiving briefings by Observatory's staff, the delegates also had the opportunity to participate as observers in the annual ISO surveillance audit conducted by an external accredited auditor.
Miss Rassmee Damrongkietwattana of the delegation thanked the Observatory for providing an excellent opportunity for them to learn about quality management, including participation in the audit process. She considered the visit very useful to their plan in implementing QMS for aviation weather services in Thailand.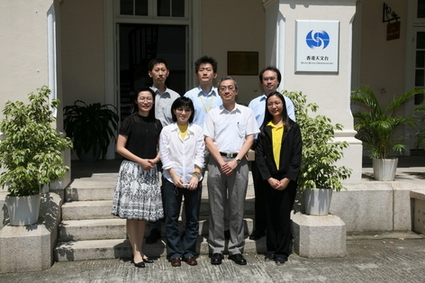 Photo: Miss Rassmee Damrongkietwattana (second from the left on the front row) and Miss Kawalee Putthiyawat (first from the right on the front row) from the Thai Meteorological Department visited the Observatory on 24-28 Sep 2007.