Fostering the Development of New Terminal Weather Forecast
The First Meeting of the Expert Team on New Terminal Weather Forecast under the Commission for Aeronautical Meteorology (CAeM), World Meteorological Organization (WMO), was held at the Hong Kong Observatory during 12-16 March 2007. The Observatory's Sandy Song, Senior Scientific Officer, attended the meeting in the capacity of an expert from Hong Kong, China. Other participants include experts from the United States, Canada, Australia, France and China, as well as representatives from the International Civil Aviation Organization (ICAO) and WMO.
While there has been rapid development of the science in meteorology in recent years, the content and format of the terminal area forecast specified in ICAO Annex 3 need to be revised so that the aviation users could fully benefit from the latest meteorological advancements. In view of this, WMO CAeM set up a new Expert Team on New Terminal Weather Forecast to develop, in close cooperation with ICAO, proposals for a new terminal weather forecast adapted to the needs of the 21st Century.
Hong Kong Observatory assisted WMO in organizing the meeting. Local user groups, including air traffic controllers of the Civil Aviation Department, pilots, airline representatives and dispatchers were invited to the meeting to provide inputs on user requirements of aviation weather services.
Through active discussions, expert team members highlighted the importance of developing the new terminal weather forecast. At the same time, the meeting sketched out the roadmap, scope and timeframe for the team's coming activities so that the initiative could be further developed, contributing to the enhancement of aviation safety and efficiency.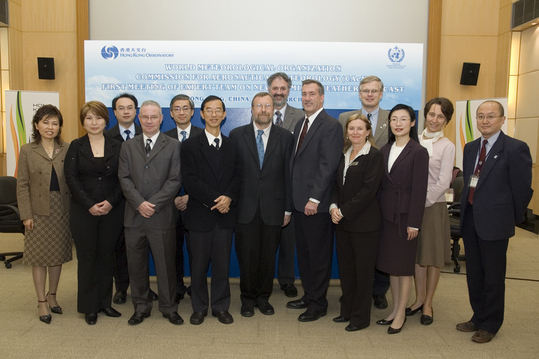 Members of the Expert Team gathered at the Hong Kong Observatory to discuss the development of the new terminal weather forecast