LIDAR-based Windshear Alerts Uplinked to Cockpit – First in the World
For the first time in the world, integrated windshear/microburst alerts from the Hong Kong Terminal Doppler Weather Radar (TDWR) and LIght Detection And Ranging (LIDAR) Windshear Alerting System (LIWAS) are uplinked to the cockpit to provide pilots with comprehensive information on the windshear situation at the Hong Kong International Airport (HKIA).
The trial with the Northwest Airlines, followed from the success of the first trial conducted between April and October in 2006 during which only TDWR alerts were uplinked. With favourable response from pilots, a second trial is being conducted with the addition of LIWAS windshear alerts. Learnt from experience gained from the first trial, to avoid frequent updates due to small changes in windshear intensity, categorized alerts are introduced in this second trial.
The alerts are uplinked using the Terminal Weather Information for Pilots (TWIP) service. The trial will continue till end of June 2007 to coincide with the peak windshear season. Pilot survey and evaluation will be conducted at the end of the trial to identify areas of improvement. It is expected that the experience gained during the trial would contribute towards the provision of windshear alerting service using new technologies, such as the Electronic Flight Bag (EFB), in the future.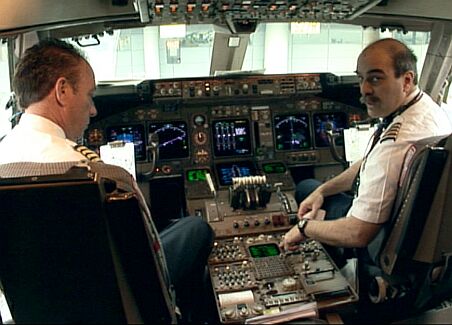 Pilots of Northwest Airlines checking the test message uplinked to the aircraft during a briefing by Hong Kong Observatory staff