Waterspout spotted west of Hong Kong (9 July 2003)
The Hong Kong Observatory received a report of waterspout sighted by a Government Flying Service pilot at around 8 a.m. this morning (9 July 2003, Wednesday). The Observatory's Weather Observer at the airport observed the associated funnel cloud over the western part of the Pearl Estuary near Macau, moving northeastward. Two hours later, the Observer again observed another funnel cloud somewhere midway between Macau and the airport (see Figure 1). It moved in the same direction and lasted for about 10 minutes.
A waterspout occurs over water, and tornado is its equivalent over land. It usually involves a fast rotating column of air extending from the base of a convective cloud to the water surface. A rotating column of air (made visible by cloud droplets) that does not touch the water surface is called a funnel cloud.
In Hong Kong, a waterspout was last spotted on 1 July 2003. Waterspouts are most commonly seen in June and July. Since 1959, there were a total of 29 cases of waterspout and 12 cases of funnel cloud sighted within 460 kilometres (250 nautical miles) of Hong Kong.
For enquiry , please contact the Observatory duty forecaster at 2926 8477. Figure 1 : Picture of a funnel cloud observed to the southwest of the airport at Chek Lap Kok (taken at 10:29 a.m., 9 July 2003) Video of a funnel cloud observed from the airport at Chek Lap Kok (recorded between 10:30 a.m. and 1035 a.m., 9 July 2003).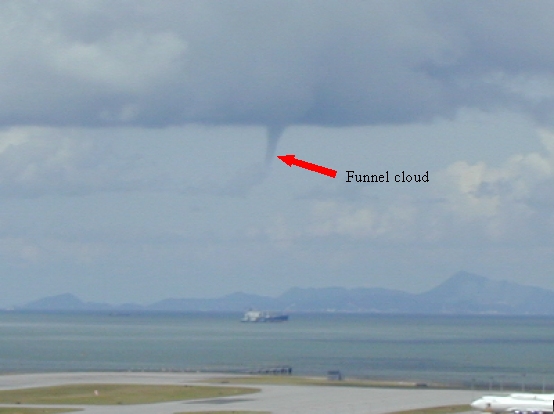 Figure 1 : Picture of a funnel cloud observed to the southwest of the airport at Chek Lap Kok (taken at 10:29 a.m., 9 July 2003)
Video of a funnel cloud observed from the airport at Chek Lap Kok (recorded between 10:30 a.m. and 1035 a.m., 9 July 2003)