A Fog Event at HKIA on 28 February 2011
Dense fog blanketed HKIA during the overnight of 27 February 2011. The enhanced satellite image showed signs of fog over the coastal waters of Guangdong before midnight (Fig.1). The visibility in Macau dropped to 100 m at that time. With radiative cooling under clear sky and the arrival of slightly cooler air, temperatures at Chek Lap Kok dropped significantly from around 21oC to 16oC shortly after midnight with relative humidity peaking at 100% (Fig.2). Together with the drop in temperature, the prevailing visibility at the Hong Kong International Airport (HKIA) dropped abruptly from 9 km to 400 m at 2 a.m. within two hours. The visibility dropped further down to 200 m at 9 a.m. on 28 February (Fig.3), necessitating the operation of low visibility procedures. Microwave radiometer at HKIA also showed moistening up of the lower atmosphere in the small hours of that day (Fig.4). With abundant sunshine, fog over HKIA thinned out in the late morning and the visibility rose to about 5000 m after 10 a.m. Though the low-level moisture was lifted up, the visibility remained relatively low and haze was reported in the afternoon that day.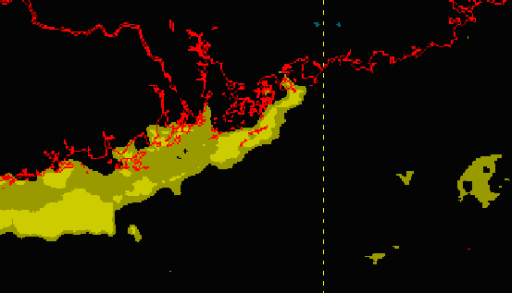 Figure 1 The enhanced satellite image for 15 UTC on 27 February 2011 showed signatures of low clouds or fog (yellow colour) over the coastal waters of Guangdong.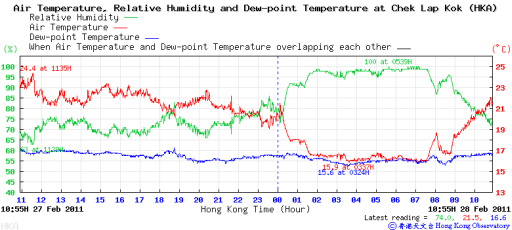 Figure 2 Time series of temperature (red line), dew point temperature (blue line) and relative humidity (green line) for Chek Lap Kok on 27-28 February 2011.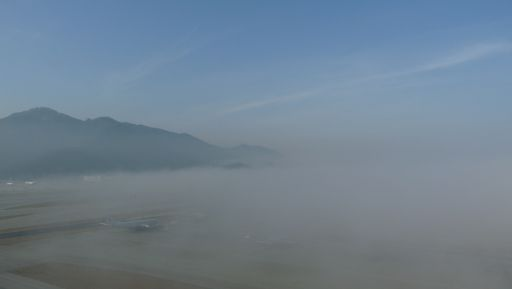 Figure 3 Fog affected HKIA on the morning of 28 February 2011, bringing the prevailing visibility down to 200 m at 9 a.m. that day.

Figure 4 The time series of relative humidity derived from microwave radiometer at HKIA indicated a layer of moist air in the low levels on the morning of 28 February 2011 (red circled area).