Squally Thunderstorms on 17 April 2011
On 17 April 2011, an area of intense thunderstorms associated with an active trough of low pressure developed over inland Guangdong and advanced southeastward crossing Hong Kong in the afternoon, necessitating the issuance of Thunderstorm Warning and Amber Rainstorm Warning by the Hong Kong Observatory. Aerodrome warnings of thunderstorm and strong gust were issued before thunderstorm and its accompanying high gust affected the aerodrome area (within 8 km of the Aerodrome Reference Point) of the Hong Kong International Airport (HKIA) shortly after 3 p.m. that day. Winds abruptly changed from the southwest to the west-northwest with gusts reaching 33 kt over the runways.

Significant changes in wind direction and wind speed may accompany squally thunderstorms within a short period of time. Airport users should take precautionary measures to protect the aircraft and to secure all equipment in the ramp upon receipt of the Aerodrome Warning of strong wind and gust. These warning messages are disseminated via fax to the Apron Control Centre. They are also made available on the web-based Aviation Meteorological Information Dissemination System (AMIDS), and upon request by aviation users, via email messages and Short Message Service (SMS).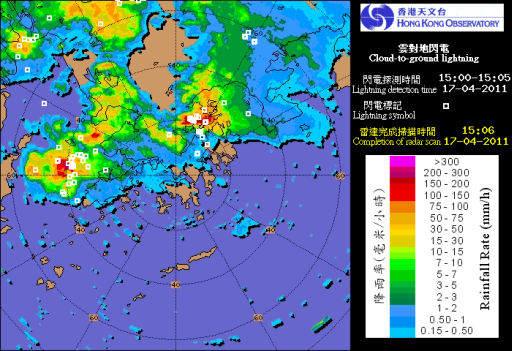 Figure 1 The radar image for 3:06 p.m. on 17 April 2011 overlaid with cloud-to-ground lightning data (white hollow squares) showing thundery showers were affecting Hong Kong.