Funnel Cloud Spotted Northwest of the Airport
On 26 June 2007, the weather was unstable over Hong Kong due to a southerly airflow. At about 9:45 a.m. on that day, the Observatory's duty Weather Observer at the Airport Meteorological Office spotted a funnel cloud at about 35 kilometres to the northwest, i.e. over the western coastal waters of the Pearl River Estuary. Moving towards the northeast, the funnel cloud evolved rapidly and dissipated in only a few minutes time. Funnel clouds usually occur in unstable weather conditions. As a funnel cloud develops, its cloud base lowers towards the sea surface and appears like a funnel hanging in the air. When the cloud extends further downwards and touches the sea surface, a waterspout would be formed. Since 1959, there have been 38 reports of waterspouts and 15 reports of suspected funnel clouds within 460 km from Hong Kong. The previous observation of funnel cloud was reported on 24 August 2005 at 4 to 5 kilometres to the southwest of the airport.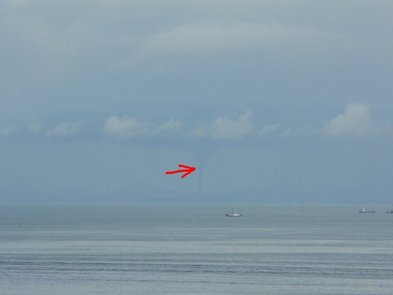 The funnel cloud over the western coastal waters of Pearl River Estuary as photographed at 9:45 a.m., 26 June 2007.