Special Weather Phenomena – "Mirage"?
A local newspaper reported in August 2006 that a reader at Tung Chung took some photos of mirage over the Pearl River Estuary. The Observatory's observer stationed at the Airport Meteorological Office at the Hong Kong International Airport was doubtful about this report considering the meteorological conditions as well as observing experience.
Observer Mr NG Tak-Leung took a number of photos over the same area (Figure 1) the day after the report. Ng said: "The visibility over the airport during that day was very good. Using a zoom camera, I could easily photo the "Wu Gui Shan" mountain and a bridge at some 50 km to the northwest of the airport. The report of "mirage" was probably just excellent visibility."
From experience, fresh to strong winds, particularly when they blow from southwest, could bring very clear air to Hong Kong in the summer. Coinciding with fine weather and high cloud base, the visibility at the airport could be very good. Figure 2 is another photo taken towards southwest by another Observatory's observer Ms MAK Man-yee in August. The foreground shows the aircraft maintenance buildings and hangars at the airport while the Macao Tourist Tower and buildings over downtown Macao (about 40km away) can also be seen clearly at the background.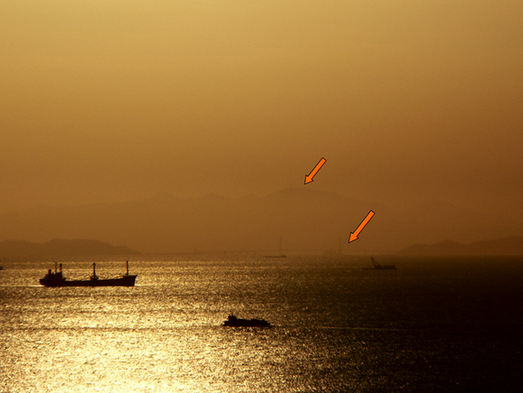 The Zhuhai Qiao Bridge and Wu Gui Shan (pointed by arrows) can be seen during fine days. (Photo taken on 14 August 2006 by Mr NG Tak-leung from the Control Tower at the airport.)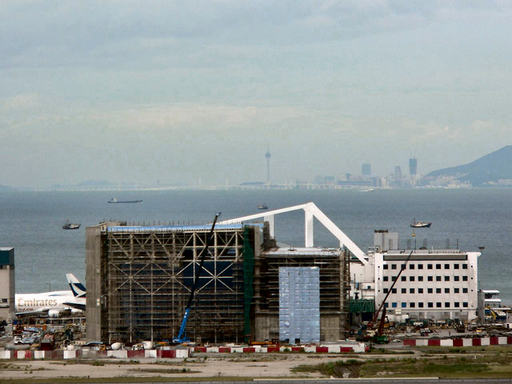 The Macao Tourist Tower and buildings over downtown Macao were clearly seen from the Airport Meteorological Office. (Photo taken on 2 August 2006 by Ms MAK Man-yee from the Control Tower at the airport.)