Ice crystal icing
HKO News Bulletin for the Aviation Community (34th Issue)
Ice crystal icing (ICI) condition refers to aircraft experiencing icing inflight in high altitude due to high concentration of small ice crystals. This type of en-route weather phenomena may cause temporary engine power loss. Due to the very small size of these ice crystals, neither pilot can notice their presence visually, nor can on-board weather radar detect them effectively.
It was hypothesized that small ice crystals were likely to be thrown into upper air by deep convection and might be carried downwind. A study was made to evaluate the feasibility of identifying High Ice Water Content (HIWC) associated with deep convection using multiple infrared channels of satellite images. Initial result suggested that area of HIWC identified matched well with location of ICI event encountered (Figure 1). Further study would need to be conducted to make use of more pilot reports, flight data and the latest satellite data from Himawari-8 with higher resolution and update frequency with a view to detecting the invisible area of HIWC in near realtime.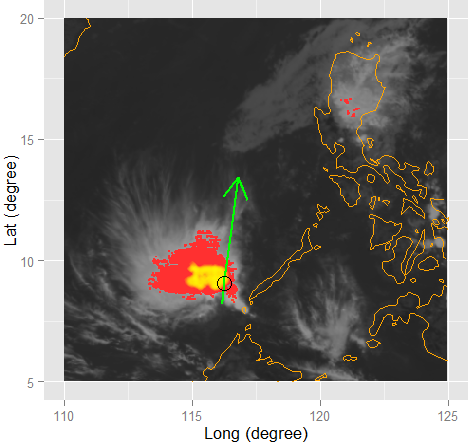 Figure 1: Satellite image showing area of potential small ice crystals in high concentration (highlighted in yellow) within an area of deep convection (highlighted in red). The circle indicates the location of an aircraft encountering ice crystal icing (with flight path in green).