Disruption due to significant convection on 23 May 2015
HKO News Bulletin for the Aviation Community (34th Issue)
The heavy rain on 23 May 2015, a day of Red Rainstorm Warning, brought havoc to HKIA. Due to the thunderstorms associated with the heavy rain, the red lightning warning of the Airport Lightning Warning System (ALWS) for the passenger and cargo apron area was in force intermittently from 15:42H to 19:40H, lasting for a total of 50 minutes. This coupled with an extensive rainband affecting the main departure route, the number of aircraft that landed was significantly more than the number of departures, resulting in prolonged period of full apron condition.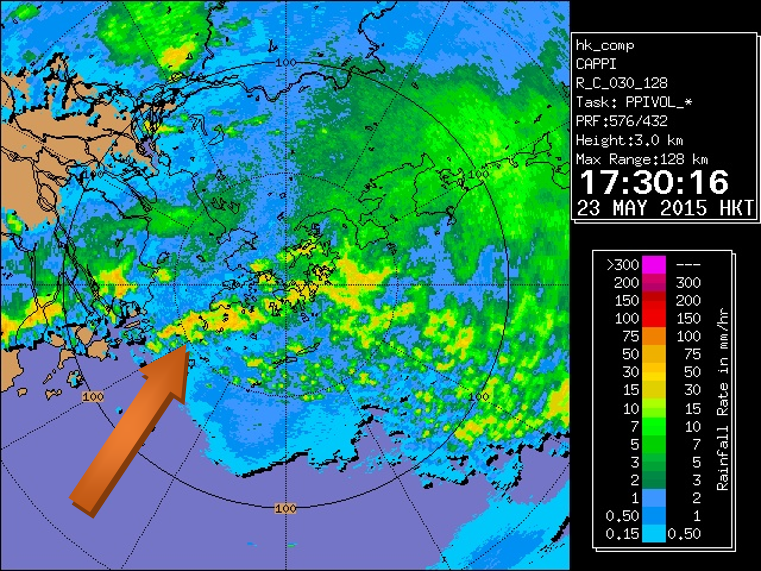 Figure 1: Radar image showing a line of SW-NE oriented rainband just to the south of Lantau. Runway 25 was being used at the time. The band of convection blocked the departure routes for quite some time.
Video: Air traffic on 23 May 2015. The arrows indicate the position and moving direction of inflight aircraft. The blue circle denotes the location of HKIA. Note after around 16:00H there were fewer aircraft departing from HKIA than arriving to it, resulted in a net increase of the number of aircraft on ground. As the situation persisted for a few hours, the apron soon became full and caused a lot of delays.