Visit of Russian Delegation to the Observatory
9 November 2009
A delegation of seven aviation meteorologists from the Russian Federation, led by Mr. Alexander Polyakov, Deputy Director-General of the Russian Federal Service for Hydrometeorology and Environmental Monitoring, visited the Observatory between 28 and 30 October 2009. This is the first time that delegates from the Russian meteorological services visit the Observatory. The delegation also included Mr. Mikhail Kanevskiy, Chief of the Meteorological Services and Wake Vortex Laboratory of the Russian State Aeronautical Systems Research Institute.
Apart from the Observatory's headquarters, the delegates also visited the Airport Meteorological Office, the LIDAR and wind profiler stations for the Hong Kong International Airport. They showed particular interests in the Observatory's windshear alerting services. In return, the delegates shared their experience in aviation meteorological services, wake vortex studies and aviation applications of numerical weather prediction models. The two organizations found this visit very useful and would seek further exchanges on aeronautical meteorology in the future.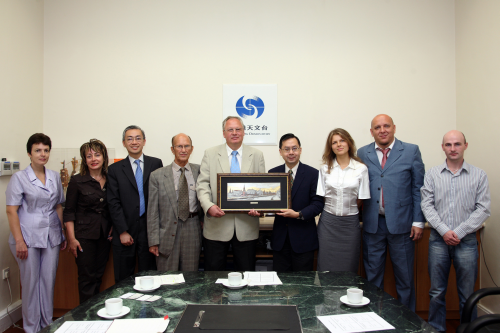 Head of delegation from Russian Federation, Mr. Alexander Polyakov (5th from the right), presented a picture of Moscow to Dr. B.Y. Lee (4th from the right), Director of the Hong Kong Observatory.