Collection Campaign of Historical Typhoon Information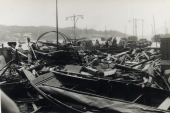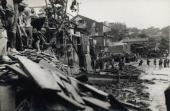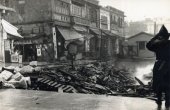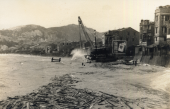 2017 marks the 100th anniversary of the introduction of numbered typhoon signals in Hong Kong. The Hong Kong Observatory partners with the Radio Television Hong Kong (RTHK) to jointly launch a collection campaign on historical typhoon information for commemoration of the occasion.
Physical typhoon signals, originally designed to aid marine navigation, were later widely adopted for general use. The numbered signals were introduced in Hong Kong in 1917 to indicate the direction and wind strength of the tropical cyclone. The system had been revised several times over the years and the current version was updated in 1973.
The collection campaign focuses on items including articles, historical photos and video of the passage of typhoons, as well as audio recordings (especially radio announcement of typhoon signals), with preference for older information. Collection materials include:
(1) articles (not more than 300 words) on personal experience of historical typhoons;
(2) items : historical photos (JPEG, no less than 1MB file size), video or audio recordings (tape, VCD or DVD), together with brief introduction (location, time, typhoon name, personal experience or reflection)
The information collected may be used for HKO's webpage, exhibition, or production of public education video (such as "Cool Met Stuff"). The audio recording may also be broadcast in the radio program "Climate Change" of RTHK Radio 1.
Please send the articles or items, together with the duly completed submission form, to Hong Kong Observatory, 134A Nathan Road, Tsim Sha Tsui, Kowloon, or email to metenq@hko.gov.hk, with title "Collection of historical typhoon information". The deadline of submission is 22 May 2017.
Those who submit valuable representative historical information or good article will be awarded with typhoon souvenir. HKO and RTHK reserve the right to publish or broadcast the information.
Please browse here to download the application form.
Telephone enquiry : 2926 8064